FULL SERVICE RESTAURANT
TYPE OF CUISINE – INTERNATIONAL
MEALS SERVED – BREAKFAST – LUNCH – DINNER – DESSERT
HOURS: FROM 07AM TO 12PM MON-SUN
Press release:
"New restaurant makes itself heard by Maura Curley"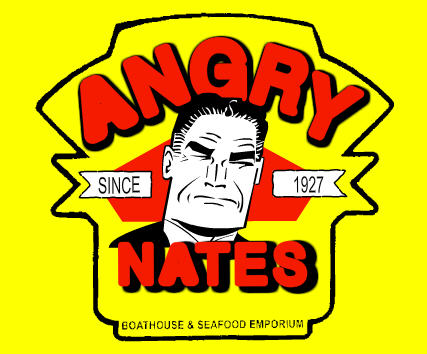 The food, water view, ambiance and affordable prices of the newest addition to the boardwalk in St. Croix's town of Christiansted should be enough to spell success. But the owners' of Angry Nates, which opened at the Holger Danske Hotel in mid October, have taken their marketing to a new level.
Every day at 4p.m. the firing of a cannon, announces the beginning happy hour,which offers half price beer and well drinks and Cruzan rum and cokes for $1.50. It's safe to say Angry Nates is not more of the same-ole same-ole.
The restaurant, billed as a boathouse and seafood emporium, is full of Caribbean brightness, punctuated with local art. And it offers something for everyone, from appetizers and burgers to thoughtfully prepared entrees. Restaurant manager Steve Waters says he and owners Chris Stone and Brian Mika, who also run Aqua West in Frederiksted, wanted to create a comfortable spot where guests can opt for a burger or something better, depending on time, temperament and budget. Fresh caught fish, direct from Captain Carl's fishing boat 20 feet from the restaurant, is a win win for patrons who can order a daily fish feature for under $20. A seafood pasta- brimming with mussels, fish and calamari and a sweet and tangy jerk chicken are becoming early menu favorites. Dessert lovers shouldn't miss the made-in-the-kitchen sweets like white chocolate bread pudding with a rum caramel sauce. Angry Nates also has reasonably priced wine with some good selections by the glass for just $5.
Article from: "Virgin Voices" magazine. www.virginvoices.com